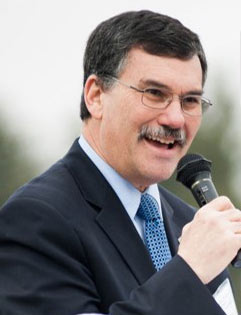 Email: teamrothschild@aol.com
Phone: 240-315-5844
Website: richardrothschild.org
Blog: American View column
---
In His Own Words:
Carroll's conservative voice
Candidate For: District 4 County Commissioner
Political Affiliation: Republican- Constitutional Conservative
Born: October 29, 1955
Hometown: Mount Airy
Profession: Real Estate
Company: TBHS, Inc.
Years Experience: 20+
Political Experience: Commissioner- District 4; Bd of Directors, MACO Land Use Subcommittee; Bd of Directors Rural Coalition of Counties; Bd of Directors, Clean Chesapeake Coalition of Counties www.cleanchesapeakecoalition.com) ; Vice-President Carroll County BoCC
Marital Status: Happily Married to a wonderful wife
Children/Age: Two Children 24/29
Current Employment: Carroll County Commissioner
How Many Years: 3+
Education: MBA and BSEE
Community Groups Involved In: NRA, Oathkeepers, GTACC, We-the-People
What are the three main issues you wish to address during your campaign and how do you plan to address them?
Issue 1: PROTECTING OUR FARMERS, BUSINESSES & CITIZENS FROM EROSION OF THEIR FREEDOMS AND PAYCHECKS, including their private property rights, heritage, and Second Amendment gun rights.

I am honored to receive endorsements from Maryland's most respected conservatives including former Senator EJ Pipkin, Ellen Sauerbrey, Dan Bongino, and the Institute on the Constitution because of my leadership in support of conservative values.

By staying strong, I FOUGHT THE RAIN TAX, and made it clear I would take legal action against the State for violations of our citizens' rights. Carroll now has NO RAIN TAX.

With help from Conservatives at the Institute on the Constitution, we CREATED Maryland's first 2nd Amendment Preservation Resolution, (http://ccgovernment.carr.org/ccg/attorney/ordinance/2013-Resolution-2ndAmendment.pdf) declaring Carroll County to be America's FIRST 2nd AMENDMENT SANCTUARY COUNTY.
Issue 2: EDUCATION EXCELLENCE & STOP COMMON CORE: Competition is the best way to improve education. With help from the Friedman Foundation and Carroll Community Foundation, Commissioners Frazier, Roush, and I CREATED Carroll's first school choice program. PUBLIC SCHOOLS benefit, because it attracts businesses, and improves revenues. (http://www.carrollcommunityfoundation.org/fund_detail.asp?fund_id=239).

Our schools are in a tight situation because of a series of bad decisions by the Board of Education. Manchester Valley High (45% empty) was too big and too expensive. System-wide enrollment continues to decline, but the Board of Education has failed to address excess overhead costs, and failed to responsibly plan for declining enrollment.

Instead, liberals demand more and more tax dollars for fewer and fewer students. This is not acceptable. Taxpayers expect conservatives to reign-in these kinds of poor decisions.

Emails from the schools to parents that suggest huge spending cuts during the past 6 years were deceptive. In fact, spending per student continues to increase every year.

True, Carroll's entry level teacher pay scale is slightly low and needs adjusting. On the other hand, Carroll's experienced teachers earn salaries (average approximately $58,500 for 10 months) that are competitive with similar counties such as Frederick or Harford.

When big government is in control of public schools, they teach only what government wants. When public schools need to compete for your child, they will teach what parents want. I am strongly opposed to COMMON CORE, and have demonstrated I have the determination to vigorously pursue every possible avenue to terminate this federalization of our schools and loss of local control.
Issue 3: PRESERVE OUR RURAL HERITAGE & COMMUNITIES. Citizens do not want Carroll turned into another Gaithersburg.

Protecting our property rights and county from government social-engineering is critical. "Smartgrowth" with subsidized housing, inevitably leads to more crime, drugs, & higher taxes.

Economic development must be directed into areas that preserve our beautiful Communities.

Our citizens do not want Carroll County turned into another Gaithersburg or Randallstown. I reject politically-correct, dense development that leads to subsidized housing, more crime, and higher taxes.

In fact thousands of our citizens moved to Carroll to escape these problems that resulted from Smartgrowth. Smartgrowth isn't smart; it is destructive.

By preserving our beautiful rural county, we will also be better able to preserve our culture and heritage including our volunteer fire department and local sheriff. These vital services need to be adequately funded.