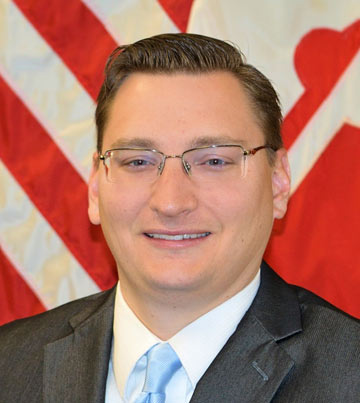 Email: michael@houghforsenate.com
Phone: 240-405-7098
Website: houghforsenate.com
---
In His Own Words:
Proven conservative leader
Candidate For: State Senate
Political Affiliation: Republican
Born: November 4, 1979
Hometown: Brunswick
Profession: Conservative Think Tank
Company: American Legislative Exchange Council
Years Experience: 7 years
Military Experience: Member of United States Air Force 1998-2002
Political Experience: Member of Maryland House of Delegates since 2011. Member Frederick County Republican Central Committee 2006-2010
Marital Status: Married
Children/Age: Katelynn 6 years old, Grant 5 years old, and Abby 1
Education: Bachelors from Towson
Community Groups Involved In: Knights of Columbus, American Legion, and National Rifle Association
What are the three main issues you wish to address during your campaign and how do you plan to address them?
Issue 1: Under liberal Democrat Governor Martin O'Malley, the Maryland General Assembly has raised more than 80 different fees and taxes. They have taxed everything from gasoline to the rain.
I am the only candidate for state senate in District 4 (Frederick & Carroll Counties) who has not voted to raise your taxes.
During my four years in the Maryland House, I voted against every proposed tax increase and supported numerous pieces of legislation to cut taxes. I have also signed the Americans for Tax Reform "No New Tax Pledge" promising as a state senator, I will vote against every attempt to raise your taxes.
Issue 2: Career politicians in Annapolis have increased the state budget by almost $10 billion over the last eight years. While my opponent has voted for five of Martin O'Malley's liberal big spending budgets, I have always voted No. In addition, I am one of a handful of legislators in Annapolis who refuses to support earmark funding – even for my own county.
The out-of-control spending is what is driving all of the tax increases. We must get spending under control.
Issue 3: I believe strongly in Americans' constitutional right to keep and bear arms. Misguided gun control laws only punish law-abiding gun owners instead of targeting criminals.
During my time in the Maryland House, I cosponsored right-to-carry legislation and always supported the right of law-abiding citizens to protect their homes and their property.
In addition, I was one of the leaders fighting against Governor O'Malley's anti-Second Amendment legislation.
I am a member of the National Rifle Association and a life-long hunter. I am proud of my "A" rating from the NRA.