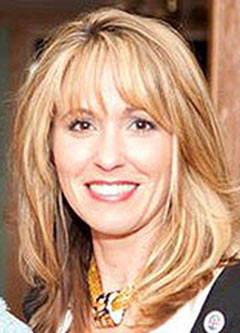 Email: delegatekellyschulz@gmail.com
Phone: 301-304-0619
Website: delegateschulz.com
---
In Her Own Words:
Strong conservative voice
Candidate For: House of Delegates, District 4
Political Affiliation: Republican
Born: January 2, 1969
Hometown: New Market
Profession: Business Owner
Company: Cyber Wolf Technologies, Inc
Years Experience: 10
Political Experience: Frederick County Republican Central Committee, Past Chairman
Maryland Republican Party, Past Vice Chairman
Legislative Aide, Senator David Brinkley
President George W. Bush, White House Appointee
Co-Chairman, Women of Steele
Republican Women of Greater Frederick, Past Chairman
Frederick County Coordinator, John McCain for President
Marital Status: Single
Children/Age: Two sons - 24 and 21
Current Employment: Business Owner/Cybersecurity
How Many Years: 1
Education: Bachelors Degree - Hood College
Community Groups Involved In: Board Member - Frederick County Habitat for Humanity, Member - Frederick Kiwanis Club, Member - Walkersville Volunteer Fire Company
What are the three main issues you wish to address during your campaign and how do you plan to address them?
Issue 1: Taxes! This is the number one issue that my constituents are talking about, and it remains my number one issue. I have fought against every increase and have submitted legislation to decrease them.

Over the past 4 years, I have introduced a variety of bills to decrease taxes, to include: Corporate Tax reductions, Estate Tax Unification, and the Repatriation Tax Relief. All of these bills have been introduced to create a more business friendly state where jobs will grow and families will prosper. I was very proud to be able to support the Estate Tax Unification bill that was passed in the General Assembly this year. It is a solid representation of the bills that I have submitted and I am pleased that I could be a part in the success of this important legislation. I will strongly continue those efforts if reelected.
Issue 2: Jobs! Maryland continues to work against business with increased regulations and fees. I have been a leader in fighting small, family owned business over the past 4 years. Reducing regulations is key to maintaining businesses that are here as well as attracting businesses to expand in our state.

In 2012, I was successful in revising a damaging piece of legislation that dealt with workplace fraud. The agencies were using their regulatory ability to hinder the ability of businesses to hire independent contractors - and targeting certain businesses. The bill that I passed helped to clean up the original bill so that businesses would not be put in the position of dealing with unnecessary audits and intrusive government oversight. This act helped to save Maryland jobs from leaving the state. I will continue to make every effort to support local, small businesses so that they can continue to grow and create jobs.
Issue 3: Education! I have been very outspoken about my opposition to the Common Core mandate. I believe that local school boards need to have local control over their curriculum, testing standards and evaluations. Education is supposed to benefit the students. The new standards hinder individual learning needs.

Working with all of the stakeholders has proven to be very beneficial. The local school boards, teachers and parenting groups have all benefited from my open door policy. Creating stakeholder groups to solve the most important issues is how effective governing is achieved.