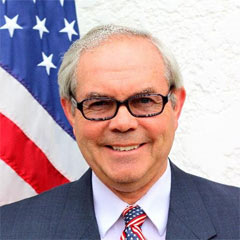 Email: jim.roenick@gmail.com
Phone: 410-875-2452
Website: jimroenick.com
Candidate For: Board of Education
Born: November 9, 1951
Hometown: Taylorsville
Profession: Power Plant Operations
Company: C & E Services, Inc
Years Experience: 32
Political Experience: Political Activist, 5 years
Marital Status: Married
Children/Age: Sons: 32 & 30 years of age, daughter 27 years of age
Current Employment: C & E Services, Inc
How Many Years: 32
Education: B.S Zoology, B.S. Medical Technology
Community Groups Involved In: Habitat for Humanity, Teens Offering Others Love and Service, Inc; Member of St. John's School Board
What are the three main issues you wish to address during your campaign and how do you plan to address them?
Issue 1: Common Core must be replaced and local curriculum control restored to OUR teachers and parents. Math should be taught with the return to the memorization of multiplication and division tables. A greater emphasis must be replaced on grammar and spelling. Classic literature reading must not be curtailed and our nation's treasured documents must be taught in proper context with the cultural and societal significance.
Issue 2: To avoid losing our best teachers, they must be compensated fairly. One of the best ways to do this, is to pay them the step increases they are due. Our teachers have only received only four step increases over the last 10 that were due. Our greatest educational resource is our teachers and their efforts must compensated appropriately.
Issue 3: Our current student performance is abysmal. Over 70% of our graduating seniors entering Carroll Community College require remedial training in math and English in order to matriculate. Our student performance must be improved if our children hope to be competitive in our economy.