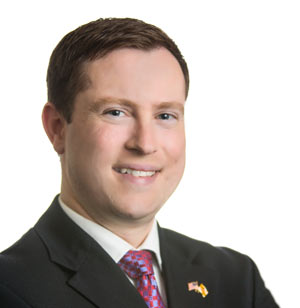 Email: david@vogtformaryland.com
Phone: 301-789-8663
Website: vogtformaryland.com
---
In His Own Words:
Strong desire to serve others
Candidate For: House of Delegates, District 4
Political Affiliation: Republican
Born: August 18, 1984
Hometown: Brunswick
Profession: United States Marine
Years Experience: 8
Military Experience: 2004 to 2012 – U.S. Marine – Expert Rifleman; Senior Leadership & Development; Civil, Military and International Law

2010--Deployment to Afghanistan

2010 Military Times' Marine of the Year

Awarded (2) Navy and Marine Corps Commendation Medals, (3) Navy and Marine Corps achievement medals, (3) Certificates of appreciation, (2) Meritorious Masts and (6) Letters of Appreciation for outstanding service.
Marital Status: Married--Alicia
Children/Age: Joseph, 3; Noah, 1
Current Employment: Restaurant Manager
Education: 2009 - University of Maryland, Bachelor of Arts – English; Associate of Arts – General Education; 2013 – American Military University, Master of Arts – Political Science: American Governance.

Community Groups Involved In : Toys for Tots Program, Major General Boyd Cook Memorial Foundation (Operation Second Chance), Habitat For Humanity, Chamber of Commerce, U.S. Marine Corps mentoring programs, VFW, Marine Corps League
Community Groups Involved In: x
What are the three main issues you wish to address during your campaign and how do you plan to address them?
Issue 1: We must reduce the tax burden on hard-working families and individuals. Government cannot create economic prosperity by continually reaching its hands deeper into our pockets. High taxes contribute to a "tax and spend" method of governing that is inefficient and harms our state's competiveness on the national stage. We need across-the-board tax cuts to reignite economic recovery in Maryland.

The last few years have clearly shown that the states that have seen the most growth and prosperity have been the states that have pursued comprehensive and effective tax reform. High taxes drive individuals and businesses to other states and reduce the overall tax base, further harming our state and local economies.

If our elected officials are serious about putting more money in the pocketbooks and wallets of Marylanders, they should support more tax cuts. As a Delegate, I will lead the fight for tax relief at all levels.
Issue 2: Maryland consistently ranks as one of the worst states for business. This is unacceptable and quite embarrassing.

We must develop policies that attract businesses and jobs to this state instead of turning them away. Our current Democratic leaders seem determined to make it economically impossible for businesses to move into the state of Maryland and expand once they are here. More and more taxes and regulations serve as deterrents for any business looking to move here and roadblocks for any businesses wishing to grow.

Lower taxes, fewer regulations, and tax incentives are all necessary to promote economic growth in Maryland, benefiting businesses, workers, and local economies. It is hard for our elected officials to claim they are interested in job creation, when their own policies are preventing businesses from supplying these jobs.

As a Delegate, my number one priority will be making Maryland one of the most business-friendly states in the nation. I will work to reduce regulations, lower taxes, and provide incentives for businesses to move here. This is the most effective way to create jobs and restore economic prosperity.

As a Delegate, I will fight tirelessly for our local farmers and for all others involved in Maryland's largest economic industry. Legislators in Annapolis continue to propose and advocate for new regulations and taxes that will have the effect of crippling our thriving agriculture industry. Measures like the "Chicken Tax" are silly and burdensome and will hurt our state and our economy, not help. I will oppose all such measures.

I am committed to our agriculture community, and in Annapolis I will fight for policies that expand the industry, not contract it. What we need is a government that promotes agriculture and opens doors of opportunity, not a government constantly seeking to place new regulations and taxes on our farms.
Issue 3: The Constitution is very clear—the right of American citizens to keep and bear arms shall not be infringed.

The Second Amendment is intended to both protect American citizens from a tyrannical government and to safeguard against violations of our Constitutional liberties. Any attack on the Second Amendment is an attack on liberty and freedom. Any attack on the Second Amendment is an attack on the Constitution.

As a Delegate, I will oppose any efforts to restrict our Second Amendment rights. The recent gun control legislation is unconstitutional and cannot be ignored.

As a Marine, I swore an oath to "support and defend" the U.S. Constitution. I will oppose any and all efforts which unconstitutionally grow the scope, size and power of government.