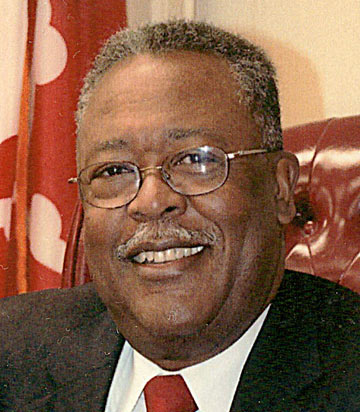 Phone: 410-960-6640
---
In His Own Words:
Professionalism, leadership and work ethic
Candidate For: Judge Orphans' Court of Carroll County
Political Affiliation: Democrat
Born: December 26, 1946
Hometown: Sykesville
Profession: FBI Supervisory Special Agent (retired); Judge Orphans' Court; Owner Harrison & Associates, LLC
Company: Harrison & Associates, LLC
Years Experience: FBI 28 years; Harrison & Associates LLC, 14 years; Judge 1yr. 3 mos.
Military Experience: U.S. Army Captain, Armed Helicopter Pilot, Bronze Star Recipent
Political Experience: Judge, Orphans' Court; Chair, Legal Redress, NAACP Branch 7014, FBI Investigator, Political/Public Corruption matters
Marital Status: Married
Children/Age: Tia West 38 yrs; Tiane Harrison 34 yrs
Current Employment: Judge Orphans' Court of Carroll County; Pres./CEO Harrison & Associates, LLC
How Many Years: Judge, 1 yr. 3 mos.; H & A, LLC. 14 yrs
Education: B.S. Degree Education; Masters Degree Administration of Justice
Community Groups Involved In: National Active and Retired Federal Employees Assoc.2nd V.P. for Legislative Affairs; Vice Pres. NAACP, Chair Legal Redress; Board of Directors, Shepherd's Staff Outreach
What are the three main issues you wish to address during your campaign and how do you plan to address them?
Issue 1: QUALIFIED CANDIDATES: During the campaign I will inform Carroll County Citizens of my contribution to the Orphans' court, my qualifications, and why I should be re-elected Judge of the Orphans' court. The issue involves electing the most qualified individual regardless of party affiliation.
Issue 2: COMMUNICATION: I will present my prior work / life experiences, skills, writing abilities, interview and analytical skills to the public. I will explain how those attributes impact upon my decision making, objectivity, judicial temperament, interpersonal skills and the compassion I have when dealing with citizens during vulnerable, stressful times.
Issue 3: INFORMED VOTERS: I will continue to inform Carroll County Citizens of the importance of having information about the candidates and of the impact their decision will have on ensuring that their estate is administered properly and their heirs are protected.