It's all come down to this -- the championship round of our Maryland Film/TV bracket. What was once a field of 64 genre-spanning opponents has been narrowed down to the final two. You, the fans, are closer than ever to crowning the Best of Baltimore, and in a tournament characterized by close calls and surprises, the title won't be easy to secure. Feeling nostalgic already? Check out the original 64 teams and matchups, with descriptions. Here's the printable bracket.
---
(1) The Wire vs. (3) Cry-Baby
Yes, we were able to round up 64 movies and TV shows with Baltimore connections for a full-fledged bracket, but some of their hometown ties were more tenuous than others. But the fans have spoken, and a true Charm City championship is what they wanted, and got, in the form of this Simon-Waters showdown.
This has been "The Wire's" tournament to lose from the start. David Simon's seminal Baltimore drama, which aired on HBO from 2002 to 2008, sailed past formidable foes like "House of Cards" and "Homicide" with ease (most recently, 1-seed "The Silence of the Lambs"). After all, out-of-towners ask if Baltimore is "the city from 'The Wire,'" not "the city from 'Live Free or Die Hard.'" Fans recall favorite scenes with teary eyes, and nary a day goes by in many local circles without a reference to Clay Davis' signature elongated expletive or a "Where's Wallace?" utterance.
However, if anything can beat The Wire, it's "Cry-Baby," local legend John Waters' 1990 Baltimore-centric Johnny Depp-fronted musical. While "The Wire" holds a magnifying glass to Baltimore's drug trade, corrupt politicians and flawed institutions, "Cry-Baby" celebrates its lighter eccentricities. "Cry-Baby" had a harder road to the championship than its now-rival after struggles with "Hairspray" and "The Blair Witch Project," but it now represents Waters in a bracket of which his films made up an entire region.
There's no question "The Wire" and "Cry-Baby" are worthy hometown representatives, though radically different. Fans might come down over a preference for film over TV, frills-free drama over frivolous music, or an undying loyalty to Waters or Simon, but it's sure to be a captivating contest that yields a deserving winner.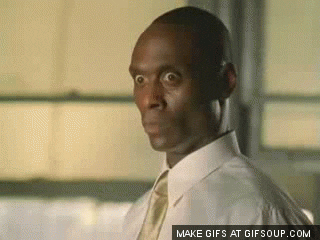 media.giphy.com/media/TDDZtFmICCUms/giphy.gif" width=100%"/>
---