MONDAY, DECEMBER 1ST
REFLECTIONS ON INTERNATIONAL TERRORISM- OPEN LINE
Tonight after the Northwestern basketball game, Milt will take your phone calls in response to a few articles recently written concerning the terrorist attack in Mumbai and, more broadly, international terrorism. Get your phone calls in early as Milt will start taking your calls right around 10:15pm.
TUESDAY, DECEMBER 2ND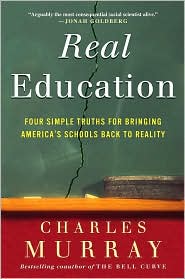 REAL EDUCATION
Should we really be encouraging all teenagers to attend college? No, according to one of the assertions in a new book by Charles Murray. In Real Education: Four Simple Truths for Bringing America's Schools Back to Reality, Murray says that our schools are broken because they're built upon a lie--- namely, that a child can be anything he wants to be when he grows up. Murray says that schools and children would be better served by facing these realities: that half of all children are of below average intelligence, that not all children possess the same skills, and that maybe all children aren't destined for college. We'll talk with Murray about this controversial new book and get a better understanding of what he means, and how he thinks schools can be fixed.

WEDNESDAY, DECEMBER 3RD
INTERNET ONLY
Tune in to our special Internet-only broadcast as Milt presides (live!) over a selection from some of the great programs in the Extension 720 archives.

THURSDAY, DECEMBER 4TH
F.I.R.E.
Our guest tonight will be Greg Lukianoff, the president of an organization called the Foundation for Individual Rights in Education, or FIRE (an organization on whose board the proprietor of this show serves). FIRE is dedicated to free speech on campus and preserving the rights of students on campuses across the country, regardless of their age, sex, race, or political affiliation. Lukianoff will be here to discuss some of the many recent cases in which the free-speech rights of faculty and students have been violated on campus.
FRIDAY, DECEMBER 5TH
THE ECONOMY WRECK!
According to the National Bureau of Economic Research the United States is officially in a recession and has been since December of 2007. Tonight we'll assess the cause of the catastrophe, where the economy is headed and what needs to be done to fix it. How long can we expect to be in a recession? What should people do to protect their finances? We'll also take a look at the bailouts being proposed in Congress and for which many industries are pleading. Should the auto industry get a bailout? These are a few of the many questions we'll tackle tonight. Listen in for an informative conversation.
MONDAY, DECEMBER 8TH
AZTECS
To coincide with the Aztec exhibit that has just opened at the Field Museum, we'll delve into the history and culture of the Aztecs. Joining us into the studio will be two experts on Aztec culture, history, and art: Liz Brumfiel, professor of anthropology at Northwestern University and Hilary Hansen, the project manager of the Aztec exhibit. We'll talk with these two about the Aztec civilization and how they lived, and how Cortez and his conquistadors destroyed them.

TUESDAY, DECEMBER 9TH
BLAGOJEVICH SCANDAL
We're pre-empting our regularly scheduled show tonight to bring you coverage and analysis of the explosive allegations concerning Illinois Governor Rod Blagojevich. With us tonight in studio to discuss the recent events are Chicago Tribune columnist John Kass and political commentator Chris Robling, and joining us by phone will be National Review political reporter David Freddoso, former Governor of Illinois Jim Edgar, and current Lt. Governor (and future Governor?) Pat Quinn.

WEDNESDAY, DECEMBER 10TH
INTERNET-ONLY
Tune in to our special Internet-only broadcast as Milt presides (live!) over a selection of great programs from the Extension 720 archives.
THURSDAY, DECEMBER 11TH
REFORMING ILLINOIS POLITICS